Planned Parenthood Rally Outside Rep. Kevin Cramer's Office
Protestors Dressed in Pink to Support Planned Parenthood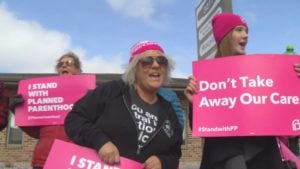 FARGO, N.D. — Protesters attempted to deliver a petition to Representative Kevin Cramer's office in Fargo, urging him to vote against de-funding Planned Parenthood.
They're seen dressed head to toe in pink rallying in defense of the organization.
The Trump Administration's proposed American Health Care Act would reallocate funds from Planned Parenthood to other organizations.
Protesters say the proposed bill would block many low-income women who rely on Planned Parenthood for breast exams, cancer screenings and birth control.
"They rely on us because we're a trusted healthcare provider," said Amy Johnson with Planned Parenthood. "Often times, the only provider that they see and if this bill were to pass, it would eliminate…it would create a barrier for many people to get their care."
The proposed bill would impact about 500 Fargo patients who rely on the facility in Moorhead.