Wrigley sues feds over losses from canceled oil lease sales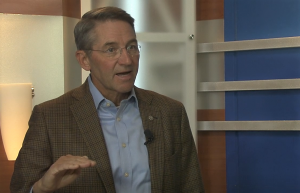 BISMARCK, N.D. (KVRR-KFGO) – North Dakota Attorney General Drew Wrigley has filed a lawsuit in federal court against the U.S. Department of the Interior, citing a potential of $1 billion in lost revenue for the state due to the cancellation of federal oil lease sales by the Bureau of Land Management.
Two years ago, the BLM started suspending quarterly oil lease sales on public lands, citing an executive order by President Joe Biden addressing climate change. But that action violates federal law and means North Dakota is missing out on significant revenue, according to Wrigley, who filed the suit in U.S. District Court last week on behalf of the state.
The state's case says the BLM lacks the authority to suspend the sales without first complying with a notice and comment process which they have not undertaken, thus unlawfully exercising federal control over state and private mineral interests. The problem, Wrigley says, is compounded by the unique "split-estate" framework of North Dakota, whereby those state and private mineral interests are frequently pooled and jointly-managed with federal interests.
"It's a taking. By the federal government's inaction, it makes it impossible for the state of North Dakota and private mineral owners out here to utilize their resources, and we're left with no recourse. That's not a tenable situation and it leaves us with no other avenue but to go to federal court, litigate this matter, hold the federal government to the promise of federal law, and the promise of the Biden Administration to comply with federal law which they are not now doing," he said.
The suit says the canceled sales result in North Dakota being prohibited from developing over 50,000 acres of land and deprives the state of $9 million in critical funds every month.
"$9 million per month – 30% of that is earmarked for education in North Dakota. 10% of it goes to natural resources…water projects, improvements all over the state. Health and Human Services get another 10%. There is real and lasting harm being done – and it's not just in stacked-up dollars. They are going into essential services of the state and those are financial rights that we have. They are in law, and they are being violated by the federal government," he said.
The state is asking the court to compel the BLM to hold the previously canceled sales, and prohibit the government from suspending the sales going forward.