NDSU President Bresciani A Finalist for President of Ohio University
North Dakota State President Dean Bresciani is one of the four finalists for president of Ohio University.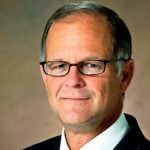 Fargo, N.D. (KFGO) – North Dakota State President Dean Bresciani is one of the four finalists for president of Ohio University.
The announcement was posted this morning on Ohio's website.
Bresciani became NDSU's 14th president in June 2010.
He addressed the opportunity in a letter to the NDSU Community:
Campus Community and Friends of NDSU-
As most of you are aware, I've always expressed a sincere interest in remaining at NDSU for some time to come – regardless of opportunities elsewhere.  However, during the past few months some of those opportunities became particularly attractive.
I sincerely appreciate the role of NDSU's students, faculty, staff, alumni and friends in the successes that have taken place here, and the personal encouragement those groups have offered me.  The SBHE's overwhelming support in extending my contract confirmed those successes and is similarly appreciated.  However, later today I will be announced as a finalist for the presidency of Ohio University. 
Please note that being a finalist by no means suggests I will be offered the position, and my interest in remaining at NDSU continues to be strong.
Recently, Bresciani has been under scrutiny by the North Dakota Board of Higher Education.
His contract renewal was delayed in response to the board's concerns about his performance in a number of areas including teamwork and collaboration and communication. Bresciani had support from the NDSU student body, faculty and local business leaders. He was also scrutinized for his handling of proposed media guidelines for coverage of Bison sporting events.
In November, after a review of his performance, the board did vote to extend his contract until June 2018.
Board of Higher Education Chair Kathleen Neset was suprised by the news, unaware until she was contacted by KFGO News.
"It's a total surprise to me. As you know, the board went through a process of trying to work through and improve our relations and communications specifically with President Bresciani. We voted with our confidence in him. So, this does come as a surprise to me."
"I do want to say the board did vote that we have the confidence in Dr. Bresciani," Neset said. "We obviously voted with the hope that his intentions and his comments through the process were always that he hoped to finish his career here at North Dakota State University and that is what I hope to see and this I am certain what the board would like to see."
Neset added that the board wishes him well "in his quest for whatever direction his career takes him."
His tenure at NDSU hasn't always been followed by a dark cloud. He recently announced that donor support has doubled over his time in office, he was there when construction began, and the opening of the new science, technology, engineering and mathmatecis building, and a new scholarship program.
Bresciani is set to be interviewed at Ohio on Janurary 12th at 4:30 p.m.
According to their website, Ohio University has a enrollment around 40,000 and is in the Center for World University Rankings top 3 percent of higher education institutions globally.
Other finalists for the job include Texas Tech University's Dr. Duane Nellis, University of New Mexico's Dr. Robert Frank and Ohio University's Dr. Pam Benoit.