Blood Banks Affected by Winter Weather
The Bad Travel Conditions Are Hurting the Blood Supply at Local Blood Banks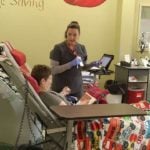 Local blood banks say the winter weather is hurting their blood supply.
The United Blood Services in Fargo say that they are 300 units behind their normal blood supply.
Because the weather has an impact on travel, they have had to cancel blood drives and normal donors haven't been able to come in and donate.
The United Blood Services urge people to come donate blood.
"Just come on in, roll up your sleeve and donate blood," said Tami Kilzer, who is the Donor Recruitment Manager at United Blood Services. "If you've never donated blood before, we're encouraging you to please do that now. If it's been awhile, now's the time to come back in and give it a try."
To find out more information about how you can donate blood, visit the United Blood Service's website.