White Supremacist Considers Move to Nome, ND
City leaders are considering options after white supremacist Craig Cobb has purchased, or is attempting to purchase an abandoned church.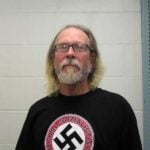 City leaders in the town of Nome, North Dakota say they have heard a well-known white supremacist may be moving to town.
They say Craig Cobb may be purchasing the former Zion Evangelical Lutheran Church, an abandoned building within city limits.
Cobb became well-known after he purchased property in Leith and voiced it would be a safe place for white nationalists.
The town became the center of a national spotlight and the subject of a documentary movie, "Welcome to Leith".
Eventually, Cobb was forced to leave Leith after he was arrested, charged with terrorizing after a confrontation in the city and put on four years probation.