No One Injured in Garage Fire at Business Center in Fargo
Some units in the complex suffered significant smoke damage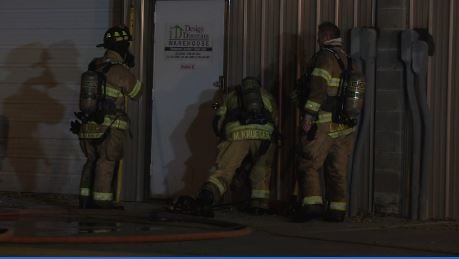 FARGO, N.D. — Fargo firefighters responded to the fire at a warehouse on 3317 Fiechtner Drive around 6:45 pm Saturday, when drivers noticed heavy smoke coming from the building.
When crews arrived, they noticed the damage to the unit where the blaze broke out.
The fire also spread to multiple office and garage spaces in the complex.
Chainsaws were used to ventilate the unit.
"The crew has really faced a lot of heat in there, and they weren't able to get all the way up, so we did a vertical vent where we just opened up the roof and let all the heat and smoke out of the building, and the fans are blowing in fresh air to cool it off so we can get in there without getting hurt," said Captain Jason Gisselbeck of the Fargo Fire Department.
Firefighters determined no one was inside the building when the fire broke out.
The cause of the fire is still under investigation.