Gas drive-off suspect chased from North Dakota to Montana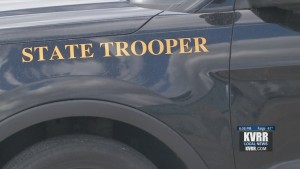 BELFIELD, N.D. (KVRR) – A man who drove off without paying for gas was arrested after leading North Dakota state troopers on a chase that stretched more than 50 miles into Montana.
The North Dakota Highway Patrol says a state trooper attempted a traffic stop on Interstate 94, about 1 mile east of the Belfield exit.  The driver of the vehicle drove off without paying for gas in Gladstone.
The driver continued westbound on Interstate 94 and a pursuit was initiated. Speeds were around 80 MPH.
A tire disabling device was deployed near exit 24, flattening three of the four tires. The vehicle continued to drive west at speeds between 30 and 65 MPH.  At one point, the driver steered into the median and sideswiped a law enforcement vehicle.
The driver continued west on three rims and one tire until it entered Montana, where Montana authorities took over the chase.
Approximately 12 miles into Montana, a Montana Highway Patrol Trooper conducted a PIT maneuver and the vehicle came to rest in the median.
Travis Hahn of Menomonie, Wisc. was charged with fleeing a law enforcement officer and driving under revocation in Montana.
Charges are also pending in North Dakota.