One person killed in I-29 crash in Fargo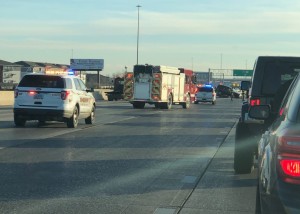 FARGO, N.D. (KVRR/KFGO) – The Highway Patrol says a 73 year old woman is dead and a 72 year old man is in the hospital after a crash on I-29 at the 17th Avenue South overpass in Fargo.
It happened around 3:00 Monday afternoon, backing up traffic for many blocks.
Authorities say an SUV hit a stopped pickup pulling a flatbed trailer.
The woman, who was between the trailer and the pickup, was dead at the scene while the man was taken to the hospital with serious injuries.
Troopers say they don't know why the truck stopped and the man and woman were standing on the interstate. They say no other vehicles were stopped and there's no indication of a road blockage.
The Highway Patrol does not believe the driver of the SUV will be cited.
Names have not been released.