Sandbag Cass to shut down Friday evening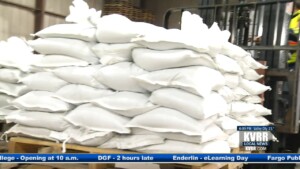 FARGO (KVRR) – "Sandbag Central" is closing for now.
The Sandbag Cass operation produced 141,000 sandbags with the help of over 1,500 volunteers through the first three days.
Officials say they're confident that the goal of 200,000 sandbags will be met by the end of the day on Friday, April 14. Volunteers will continue to work until 7:00 p.m.
The operation will continue to be set up in case additional sandbags are needed.