"Your Company Exploits Children": Senators Heitkamp, Klobuchar Take on Backpage.com
Minnesota Senator Amy Klobuchar and North Dakota Senator Heidi Heitkamp have been fighting back against human trafficking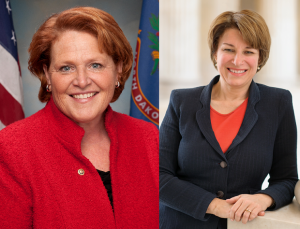 Backpage.com has removed its adult services section.
Last October, Backpage.com's CEO was arrested after federal officials in Texas said that adult and child sex-trafficking victims had been forced into prostitution through escort ads posted on the website.
Minnesota Senator Klobuchar has been a national leader in the fight against human trafficking.
She said Backpage.com's announcement that it will be shutting down its adult services section is long overdue, but another positive step forward in our fight against human trafficking.
Senator Klobuchar's Justice for Victims of Trafficking Act was signed into law in May of 2015.
The law helps protect minors from prosecution who were sold for sex and helps victims rebuild their lives by going after the people responsible for the criminal act.
"We need to keep working together to bring perpetrators to justice and get victims the support they deserve," said Senator Klobuchar in a statement from her office.
Senator Heidi Heitkamp Addresses Backpage.com
In November of 2013, Senator Heitkamp joined Senator Klobuchar and introduced Stop Exploitation Through Trafficking Act and the two lawmakers joined with law enforcement in Fargo to hear from local officials who are dealing with human trafficking.
In a Senate Subcommittee Hearing today, Heitkamp blasted the CEO of Backpage saying they should be ashamed of themselves for hiding behind the first amendment.
The U.S. Senate Committee on Homeland Security and Governmental Affairs' Permanent Subcommittee on Investigations, a committee on which Heitkamp serves on, released its investigative report on Backpage.com
The report states CEO Carl Ferrer and other employees made human trafficking possible by deleting certain words from sex ads before publication in order to avoid being detected and the Chief Operations Officer claims the website's word filter was designed not to keep those filtered terms which may have led to destroying potential criminal evidence.
The report also accuses Ferrer of coaching his employees on how to take a sex ad and create a "clean" version of it and under-reported ads used specifically for the use of human trafficking.
At today's hearing, Heitkamp didn't hold back as she addressed the CEO.
"The audacity of a group of American citizens, wishing to hide behind the First Amendment, when they exploit children is beyond me," Heitkamp said.  "Your company exploits children.  How in the world can we allow that to happen in our country?"
The Subcommittee started investigating human trafficking on the internet in 2015.
Backpage.com has an annual revenue of more than $150 million and has been linked to sex trafficking cases.
If you would like to read the full report, click here.