Fargo, West Fargo, Moorhead & Dilworth Deliver State of the Cities
Mayors of Fargo, West Fargo, Moorhead, and Dilworth Come Together to Address the State of the Cities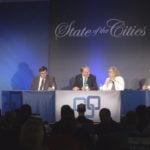 The four metro area mayors come together at the State of the Cities to talk about the previous year and what they are looking to do in the future.
Dilworth Mayor Chad Olson would like to see more recognition for his city.
"I'm here…hat in hand…asking humbly to consider the city of Dilworth to be acknowledged in name to the chamber of Fargo, Moorhead, West Fargo, say it with me and Dilworth," he said during the annual State of the Cities address.
Fargo's growth includes more apartments tailored towards younger workers.
"Smaller apartments, smaller studios…ideas like that," said Fargo Mayor Tim Mahoney. "We're going to see more variety of what is offered out there. We're beginning to see that millennials don't need as much space."
The City of West Fargo wants to focus on employment.
"We know there's a workforce shortage," said Mayor Rich Mattern. "So we have to keep our young people here."
Moorhead would like to see more businesses open up.
"If you are thinking about opening a restaurant and are considering that you are going to be one of the many that are opening in Fargo and West Fargo, consider Moorhead because we will be there for that," said Mayor Del Rae Williams.  "You can count on that you will be a real thing."
While these four cities are close in distance, they still have qualities that make them different.
"We have to provide an experience for when people come to town and can find any one of the communities that they can live in because in the workforce issue, people have a variety of different views of where they want to live and what they want to do," said Mayor Mahoney.  "I think every one of our cities is a little unique."
The area mayors say they plan to continue to work together in the future.
When the mayors were asked where they saw their city in the year 2030, they all said more developed, populated and a desirable place to live.