Night to Shine Dance in Need of Volunteers
Hope Lutheran Church in Fargo Visited Davies High School in Hopes to Find Volunteers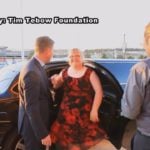 Members of the Hope Lutheran Church were at Davies High School to recruit volunteers for the "Night to Shine" dance hosted at the church.
This annual dance is sponsored by the Tim Tebow Foundation.
The purpose of the dance is to act as a prom for teens with special needs.
Attendees of the dance will receive celebrity treatment, complete with the red carpet, hair and makeup artists as well as being awarded prom king or queen.
"It's so cool that we get to share love with people that often are sidelined, so it really is a life changing experience for everybody that participates," said Judy Siegle of Hope Lutheran Church in Fargo.
This year 375 churches around the globe will be hosting "Night to Shine".
If you would like to volunteer, check out Hope Lutheran Church's website.