Jane Fonda Gathers Protesters of DAPL at Trump International Hotel
Fonda says President Trump has signed the executive orders illegally when it comes to the construction of controversial pipelines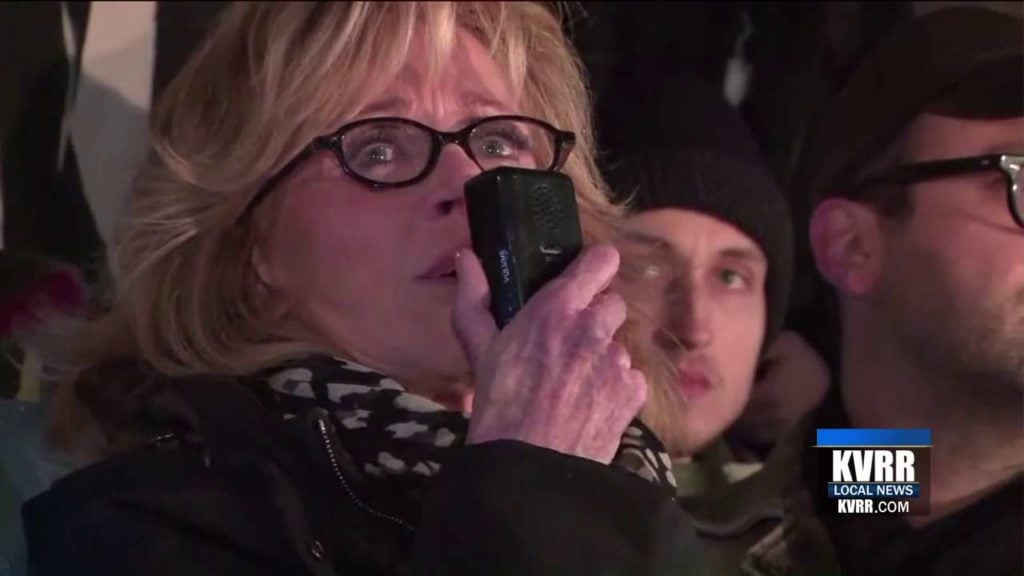 North Dakota Republican U.S. Rep. Kevin Cramer has asked President Trump to pay for law enforcement costs at the pipeline protest site near Cannon Ball and provide federal police to protect construction workers as protests intensify.
Actress Jane Fonda joined protesters in New York last night to denounce President Trump's executive order clearing the path for the controversial Dakota Access and Keystone XL pipelines.
Scores of people gathered outside Columbus Circle where Trump International Hotel is a few steps away.
They then marched to Trump Tower where they met resistance from the NYPD.
"Today, the predator-in-chief issued executive orders calling for the completion of the North Dakota Pipeline and to reopen the Keystone XL Pipeline," said Fonda to a group of protesters. "He does this illegally because he has not gotten consent from the tribes through whose country this goes."
Fonda traveled to the Standing Rock Sioux Tribe reservation back in November to help serve a Thanksgiving meal to pipeline protesters.
DAPL PROTESTERS GATHER IN CALIFORNIA, WASHINGTON
Other pipeline protests popped up in cities across the country including Washington, D.C., Los Angeles and Seattle.
Protesters gathered at the federal building in West Los Angeles to rally against President Trump's actions.
There was also a large turnout in Seattle.
"We don't want our money, we don't want the city's money, other people's money, being used to finance projects like the Dakota Access Pipeline, a company that's engaged in the desecration of sacred sites, or burial sites and the potential polluting of our waters," said one protester.
It is estimated that thousands of people turned out for the pipeline protest last night in Seattle.