Update: Custodian Fired After Horace Elementary Lockdown
West Fargo School District releases statement on Thursday incident.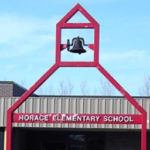 The West Fargo School District confirmed in an email that the Horace elementary custodian involved in Thursday's incident was released from her position, effective immediately.
Cass County Sheriff's Department Sergeant Tim Briggeman says the janitor has been tied to methamphetamine.
She has been interviewed, but not arrested.
The District will have no further comment on the event.
An administrative lockdown for most of the day on Thursday at Horace Elementary School.
A school district spokeswoman says it was a personnel matter that did not involve children and the students were safe at all times.