F-M Ambulance Recognizes Three Strangers Who Saved Motorist on I-29
A man went into cardiac arrest on the highway where three drivers pulled over to help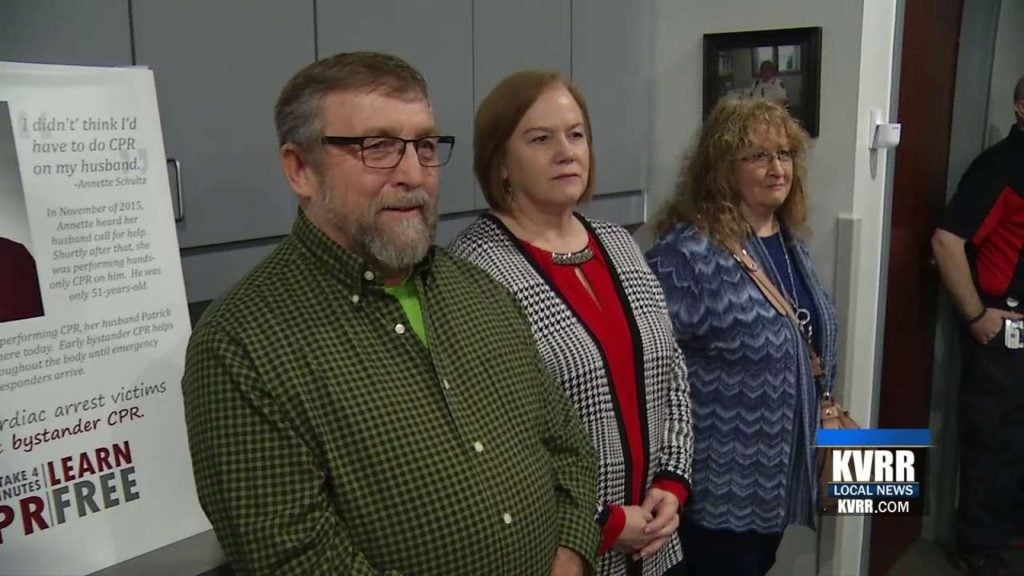 CASS COUNTY, N.D. — One Fargo man has three people to thank for giving him another shot at life.
Mark Dammann says December 9th was a normal day for taking a drive down south on I-29.
"I had no inclination I was going to have a heart attack," said Mark.
He says he was in the holiday spirit with plans to attend his wife's Christmas party when his vision began to fade and he knew he was going to pass out.
Mark was talking on the phone to his brother at the time.
"I told him, this is probably going to be the last time I'm talking to you because I noticed I started blacking out," he said.
He then veered into a ditch off the side of the highway.
"When I saw him slumped over and he was not responding, that's when I knew something was wrong," said Adam Seyfried.
Adam is a former EMT and 911 dispatcher.
He says he knew he had to help when he noticed the semi Mark was driving swerve off the road.
"I decided it looked like something was going on that I could help with," said Noah Nelson.
Noah is a registered nurse with a goal of being an EMT.
"Just trying to put my own medical experience out there," he added.
Mark couldn't have asked for two people more qualified to help him in his time of crisis.
Both men stress the importance of learning CPR and how it can truly making a difference in saving one's life.
Stephanie Sorenson also saw what was happening to Mark as she drove along I-29.
She saw Noah and Adam performing CPR and stopped to call 9-1-1.
She flagged down the highway patrol, who came with an AED.
"If they wouldn't have stopped, I wouldn't be alive and I wouldn't be in the position that I'm in to talk to you," said Mark.
And that's where F-M Ambulance stepped in to help Mark give his three heroes the recognition and thanks they deserve.
Adam, Noah and Stephanie were presented with the F-M Ambulance Citizens Lifesaving Award for their bravery and hard work
"Anywhere you can be you can always save a life," said Adam.
F-M Ambulance is giving you a chance to find out how you can save a life by learning CPR.
Their Save-a-Life program will be on Saturday at the West Acres Mall from noon to 5:00 pm.
It's a skill that has given Mark's grateful heart towards three strangers…another chance at life.
According to the American Heart Association, if a person suffers a sudden cardiac event, their chances of survival decrease by seven percent each minute without someone performing CPR.