Brief Lockdown at West Fargo High School after Social Media Threat
Social media threat stated a pipe bomb was in a locker. Nothing was found.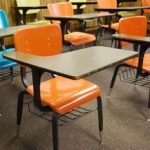 According to a release from the West Fargo School District:
At 12:19 PM today, West Fargo High School went into lockdown in response to a social media threat regarding a pipe bomb in a locker. 
Our School Resource Officer conducted the investigation. 
Nothing was found to give any merit to this threat, and the lockdown was lifted after approximately 30 minutes. 
The initiator of the threat has been identified and will be dealt with according to school policy.
All students and staff responded according to our practiced protocols, which ensured that everyone was safe while the investigation was conducted.  At 1:20 PM, parents were provided with a summary of this incident. 
We appreciate the cooperation of our students and staff, and the understanding of our parents and guardians, as school administration worked to resolve this matter.