Sen. Franken Explains How Repeal of Care Act Affects Moorhead Seniors
A nonpartisan analysis estimates the American Health Care Act would immediately leave 14 million people without health coverage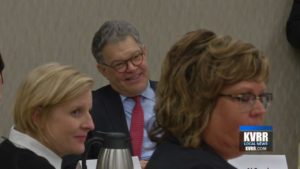 MOORHEAD, Minn. — U.S. Senator Al Franken visited Moorhead to tell senior citizens how Republican plans to repeal and replace the Affordable Care Act could impact them.
A nonpartisan analysis estimates the American Health Care Act would immediately leave 14 million people without health coverage.
State officials say 1.2 million Minnesotans under the current plan could lose insurance or get a major hit by the new plan.
They say this affects rural health professionals, nursing home staff and families of nursing home residents.
"I think the proposal that's been going through the house is terrible. I think pretty much everyone here today said the same thing."
Senator Franken says Medicaid currently pays for one out of every two nursing home residents across the state.