MN House Republicans Propose $45 Billion Budget
House Speaker Kurt Daudt has suggested phasing out Social Security income taxes and reducing agricultural property taxes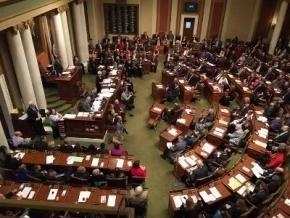 ST. PAUL, Minn. — Minnesota House Republicans are looking at a roughly $45 billion two-year budget.
Legislative leaders are considering cuts to some health care programs and state government agencies while drumming up nearly $1.4 billion in tax relief.
House Speaker Kurt Daudt has suggested phasing out Social Security income taxes and reducing agricultural property taxes.
They could have a hard time getting their ideas approved by Democratic Gov. Dayton.
Lawmakers have until late May to pass a budget.