Minnesota Lawmakers Focus on Possible Budget Compromises
But Republicans and Democratic Gov. Dayton have lots of divides to bridge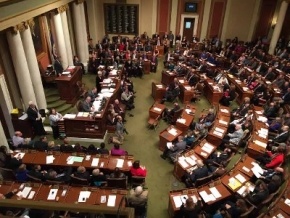 ST. PAUL, Minn. — Minnesota lawmakers returned from a week-long break with their eyes on the budget.
Their return marks the beginning of the rush to agree to a new, two-year budget that will likely exceed $45 billion.
But Republicans and Democratic Gov. Dayton have lots of divides to bridge.
The GOP is pursuing nearly $1 billion or more in tax cuts and some drastic cuts to government services.
Dayton is aiming for a smaller suite of tax breaks while increasing state spending on programs like a prized preschool initiative.