MN & ND U.S. Senators React To Comey Firing
Democrats likened Tuesday's ouster to President Richard Nixon's "Saturday Night Massacre" and renewed calls for appointment of a special prosecutor.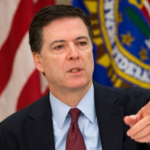 WASHINGTON  – President Donald Trump's stunning firing of FBI Director James Comey throws into question the future of a counterintelligence investigation into the Trump campaign's possible connections to Russia.
It also raises suspicions of an underhanded effort to stymie a probe that has shadowed the administration from the outset.
Democrats likened Tuesday's ouster to President Richard Nixon's "Saturday Night Massacre" and renewed calls for appointment of a special prosecutor.
Some Republicans also questioned the move.
North Dakota Senators released the following statements:
U.S. Senator Heidi Heitkamp, (D) North Dakota:
"The president firing Director Comey raises far more questions than it answers," said Heitkamp. "We must make sure the FBI can do its job to effectively and independently protect our national security. And it's critical that the American people know the FBI's investigation into Russian interference in our election is, and always will be, impartial. It's time a special prosecutor is appointed to guarantee that happens. Additionally, after the U.S. Attorney General recused himself from the investigation following public pressure, he then recommended the president fire the person overseeing that same investigation. That is deeply troubling and unprecedented. Extreme partisanship is one of the greatest dangers our country faces, and we cannot let this investigation succumb to partisan division or Russian attempts to take advantage of us."
U.S. Senator John Hoeven, (R) North Dakota: 
"While Deputy Attorney General Rod Rosenstein's letter made the case for the president to fire Director Comey, the timing of his dismissal raises questions. That's why the bipartisan Senate Intelligence Committee needs to continue its investigation into all aspects of the 2016 U.S. presidential election, including any Russian interference. We look forward to reviewing their bipartisan findings and recommendations to determine if additional actions are necessary."
U.S. Senator Al Franken, (D) Minnesota:
"It is deeply troubling that President Trump just fired the person in charge of investigating his ties to Russia, and the President's stated reasons for firing Director Comey are difficult to believe.
"We know that the Russians interfered in the 2016 election, that they did so to undermine confidence in American democracy, and that they wanted Donald Trump to become President. The intelligence community has confirmed that.
"I am also deeply troubled by the fact that Attorney General Jeff Sessions, who pledged to recuse himself from the Russia investigation because of his own Russia connections, involved himself in Director Comey's firing. This is a complete betrayal of his commitment to the public that he wouldn't be involved in the investigation.
"We cannot trust an investigation led by this administration. And it's now clearer than ever that we need an independent investigation into Trump's ties to Russia."
U.S. Senator Amy Klobuchar, (D) Minnesota tweeted:
"Really? Firing Jim Comey smack in the middle of a major Russia investigation is very suspect. We need independent prosecutor & commission"
In his letter to Comey, Trump said the firing was necessary to restore "public trust and confidence" in the FBI. The administration paired the letter with a scathing review of Comey's work by Deputy Attorney General Rod Rosenstein, including his decision to hold a news conference announcing the bureau's findings and releasing "derogatory information" about Clinton.