Pilot Airlifted To Fargo After Crash
The Mahnomen County Sheriff's Office received a 9-1-1 call reporting a plane crash near the Mahnomen Airport.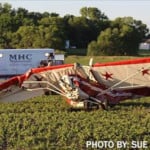 MAHNOMEN – A pilot was airlifted to Sanford Medical Center in Fargo Tuesday night after his plane crashed south of Mahnomen.
Sheriff Doug Krier says the plane went down in a field near the Mahnomen airport around 8 p.m. Two MN-DOT employees traveling on Highway 59 saw the plane crash and pulled the pilot from the wreck.
The man's name and condition have not been released.
The FAA and NTSB are investigating.