Two Injured After Fargo House Fire
Fargo Firefighters say one person was rescued and taken to Sanford Hospital.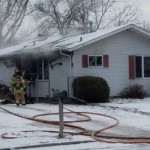 Fargo, ND — A Sunday morning fire resulted in two people being injured.
Fargo Fire were called to a single family home on the 700 block of 29th Street North around 8:00 a.m.
When they arrived three people were out of the home, but a fourth was still in the basement.
They rescued a woman.
She was taken by ambulance to Sanford Medical Center.
One of the people who got out on their own suffered cuts to their arms.
He was taken to the hospital by a private party.
Fire Chief Bruce Anderson told KFGO News, "We weren't sure what we had, we were reported that it was some kind of disturbance at this address."
The fire was extinguished in fifteen minutes.
The cause of the fire remains under investigation.