Found: Missing Elderly Fargo Man
Fargo Police say a motorist in Moorhead located Mr. Morrison. He is safe.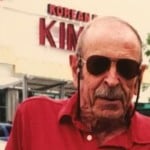 (UPDATE) – Ralph Morrison was found safe by a motorist in Moorhead who saw a social media post.
—
Fargo, ND — Fargo Police are asking for the public's help finding an elderly Fargo man.
81 year old Ralph C. Morrison was reported missing  at 8:00 p.m. on Thursday, January 4.
Morrison is 5'6″, 135 lbs. with brown, balding hair and blue eyes.
He was last seen wearing a blue and tan lighter jacket, tan pants and black shoes.
Morrison was supposed to be following his wife home in his vehicle, a 2001 beige Toyota Camry with California license plates: 4SJE955.
He became separated from his wife in the 2100 block of 45 Street South heading southbound sometime after 5:00 p.m.
Morrison suffers from Dementia and Alzheimer's and does not know his way around Fargo.
If you have any information as to his whereabouts, please call Red River Regional Dispatch at 701-451-7660.