Former ND Governor Sinner Passes Away, Funeral Set For Friday
Funeral services will be held at 10 a.m. Friday, March 16, at Nativity Catholic Church in Fargo.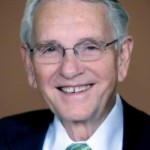 BISMARCK, N.D. – George Sinner, the farmer-philosopher who served as North Dakota's governor during one of the state's roughest economic times, has died. He was 89.
Funeral services will be held at 10 a.m. Friday, March 16, at Nativity Catholic Church in Fargo. Visitation will be 5 p.m. to 7 p.m. Thursday, March 15 at Nativity Church.  A prayer service will be held from 7-9 p.m. at the Church.
The Fargo native studied philosophy in college and considered becoming a priest. But family and public service beckoned.
George B. Sinner said his father never talked about money and was always focused on helping others.
"My dad picked up hitchhikers. He cared about immigrants. When I was a child he brought a young man home from one of the local colleges who was a visiting student from Africa, for Christmas," his son said.
"That's who he was and how he lived."
The father of 10 children became a well-known Democrat, serving in the Legislature in the 1960s and early '80s before defeating Republican incumbent Allen Olson for governor in 1984. His gubernatorial campaign included a television commercial that showed a farmer pitching cow manure, which Sinner compared to his opponent's campaign statements.
Looking back a decade later, Sinner told a group of students in Fargo that he didn't think about running for governor until 1982, after he had served in the Legislature.
"I wasn't really needed on the farm anymore,'" he said. "And I suddenly realized I was as qualified as anybody to run the state."
His administration, from 1985 through 1992, spanned one of the roughest periods in North Dakota's economy. The state was hit hard by drought in the late 1980s, and slumping oil prices turned a western North Dakota boom into a bust. In 1990, Sinner endorsed a special day of prayer on the state Capitol grounds to pray for rain.
He also vetoed what would have been the country's toughest abortion law at the time in 1991, saying he agreed with the Roman Catholic view that abortion was wrong but believed the issue was the role of law. The proposed law would have banned abortions except in cases of rape, incest or when a woman's life was in danger.
"Government must not overstep its bounds," he said in his veto message. "It must not play God."
Sinner was born in Fargo in 1928, and grew up in nearby Casselton. He attended St. John's University in Collegeville, Minn. where he received a bachelor's degree in philosophy.
Sinner was part of a farm partnership, Sinner Brothers and Bresnahan, in Casselton. He served in the state Senate from 1962 through 1966, as a delegate to North Dakota's Constitutional Convention in 1972, and on the State Board of Higher Education before being elected to the state House in 1982. He was elected governor two years later.
His first term as governor began with a state Supreme Court battle over when Sinner could legally take office and fill two court vacancies. The high court ruled in Sinner's favor, and he became governor on Jan 1, 1985.
During his term, Sinner pushed for higher income, sales and gasoline taxes, as well as plans to restructure the executive branch of state government and reorganize North Dakota's school districts. But his tax proposals were referred and rejected by voters, along with his restructuring plan.
In July 1991, Sinner had heart bypass surgery in Rapid City, South Dakota after suffering chest pains while attending a conference there. That fall, he said his health was fine but he had decided not to seek a third term. He made the decision, he said, while on a hunting trip, and decided that, "It was time that I spend some time with a little less involvement and a little less pressure."
Since Sinner left office North Dakota has had an unbroken string of four Republican governors.
Sinner, who raised 10 children with his wife, Jane, was known as someone who liked to tell jokes — but wasn't especially good at it. Even political opponents liked him as a person.
"Bud was probably one of the most honest men we'll ever have in state government," former House Speaker Ron Anderson once said.