Rocori School District hires Interim Superintendent
Dr. John Thein replaces a man once considered for Moorhead Superintendent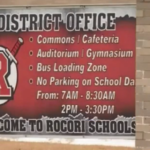 COLD SPRING, Minn. – The Rocori school district hires an Interim Superintendent replaces a man once considered for Moorhead Superintendent.
The Central Minnesota District has approved Doctor John Thein's at–will contract. He replaces Scott Staska who's on administrative leave after being arrested for indecent exposure.
Staska is also a former Barnesville High School principal. He removed himself from consideration for the Moorhead job when allegations against himcame to light.