Former President George H.W. Bush Has Been Hospitalized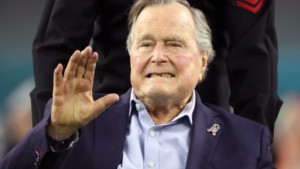 HOUSTON – Former President George H.W. Bush has been hospitalized with a blood infection the day after attending his wife Barbara's funeral.
A family spokesperson says Bush is "responding to treatments and appears to be recovering" at a Houston hospital after being admitted Sunday.
Former First Lady Barbara Bush was laid to rest Saturday at a ceremony attended by former Presidents George W. Bush, Bill Clinton, Barack Obama, Former Fist Ladies Hillary Clinton and Michelle Obama and current First Lady Melania Trump.