U.S. Senators Heitkamp, Smith Emphasize the Need for Pension Reform
The two senators called on retirees to make their voices heard in Washington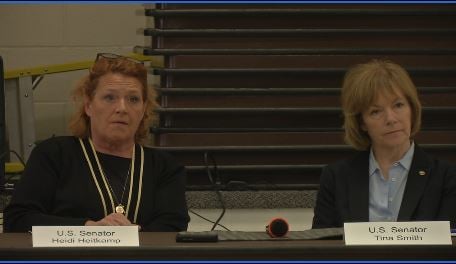 FARGO, N.D. — U.S. Senators Heidi Heitkamp and Tina Smith spoke with several retired workers in Fargo to discuss pension reform.
The two Senators are part of a bipartisan, joint Senate–House committee whose goal is to solve the pension crisis.
They say the dilemma threatens nearly 2,000 North Dakotans and 400,000 retirees nationwide.
Both Heitkamp and Smith feel that it's essential for retired workers to make their voices heard.
"All of these folks need to weigh in, not just people whose pensions are affected right now, but people who care about retirement security across the country," said Senator Heitkamp.
"Senator Heitkamp and I are great partners on this, we both feel very strongly about this, and working together, we think we can carry an even stronger message back to Washington," said Senator Smith.
Smith and Heitkamp will meet with the pension committee next week to continue discussing reform.
In addition to her plan about pensions, Senator Smith also talked about several topics, ranging from the role of women in the Senate to the summit in North Korea.
Smith says that it's important to have a strong connection with the 22 other female senators since they all share the same ambition to get things done.
She also talked about the current situation in North Korea, and how it is important for there to be no conflict on the Korean peninsula.
"I am hopeful that these negotiations that the President is undertaking with North Korea will result in North Korea walking away from their nuclear weapons. The proof is going to be in the pudding and I'm wishing them the best of luck as they go forward," said Senator Smith.
In addition to her discussion with workers about pension, Smith traveled with Heitkamp down to Breckenridge to talk about the future of rural health.