Woman Throws Water On Conservative Commentator Tomi Lahren At Minneapolis Establishment
President Donald Trump tweeted in support of Lahren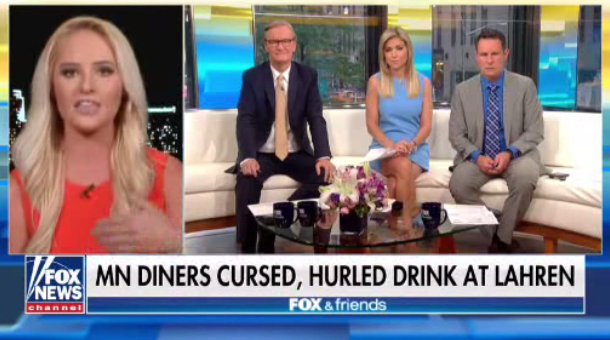 Conservative commentator Tomi Lahren says she is disheartened and embarrassed but not broken after a woman threw water on her at Union Bar and Grill in Minneapolis.
"I think that those that threw the water, that were applauding and laughing about it, wanted to get their 15 minutes of fame by making a video of me," said Lahren.
"I think looking back those are the people that are going to be embarrassed by their actions. I think their parents raised them better. Furthermore, you don't have to like me, you don't have to agree with my political opinions but you don't have the right to throw things at me. Is that the point that we've got in this country that you can't disagree with someone civilly without resorting to something like that."
The Fox News contributor told "Fox & Friends" that she was eating Sunday brunch with her parents when a group of people "thought it would be funny to throw water at" her and chant profanities as she was walking out.
President Donald Trump tweeted in support of Lahren, calling her "a truly outstanding and respected young woman!"
A Minneapolis police spokesman says that no one has reported the incident.