Hitterdal Death Suspects Expected In Court
41 year-old Troy Yarbrough hasn't been heard or seen by friends or family since May 18.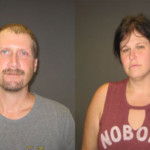 HITTERDAL, Minn. – After searching a farmstead near Hitterdal for the investigation of a missing person, authorities found human remains on the property.
Wahpeton Police says 41–year–old Troy Yarbrough of Wahpeton had not been seen since May 18th. He was last seen with 39-year-old Jason Jensen, who owns the Hitterdal property, and 35-year-old Kayla Westcott. Both have been arrested in connection with the disappearance of Yarbrough.
The remains were sent to the Ramsey County Medical Center for identification.
Red River Valley Regional SWAT were used to secure Jensen and the property where the Minnesota BCA continued their investigation.