Damage Done By Overnight Storms in New Rockford, ND
Overnight storm does damage to New Rockford area, in North Central North Dakota.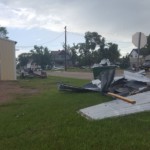 NEW ROCKFORD, ND — The New Rockford area is waking up to significant storm damage.
Officials will be meeting to determine the extent of the damage.
According to the New Rockford Fire Department:
Although the National Weather Service does not have wind measurement gear in the New Rockford area, they did record gusts over 100 MPH in other locations from the same storm that hit New Rockford.
There are hundreds…if not thousands of trees down. Ottertail Power is working on damage assessment, but you should prepare to be without power for most of the day and potentially overnight. Some will see power back sooner than others. All critical facilities are running on standby generators.
Travel is very difficult throughout town. So please stay home. There are no injuries reported at this time and we want to keep it that way.