West Fargo Officer Injured During Traffic Stop
Police say the driver, Mario Palacios II, ran from a traffic stop in the 2600 Block of Sheyenne Street at around 10:30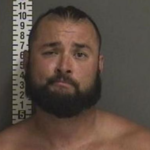 WEST FARGO, N.D.  — A West Fargo police officer was hurt during a chase and struggle with a speeding suspect.
Officers stopped Mario Palacios II for speeding in a construction zone on Sheyenne Street around 10:20 this morning.
When they tried to arrest him for driving with a suspended license he fled on foot.
During the chase and struggle, one officer was hurt and was taken to the hospital by ambulance.
His injuries are not believed to be severe.
His name has not been released.
Palacios was arrested for driving under suspension, resisting arrest, possession of marijuana, and he was given a citation for speeding in a construction zone.