Tense moment between ex-FBI agent, Stearns Co. Sheriff caps off Wetterling files release event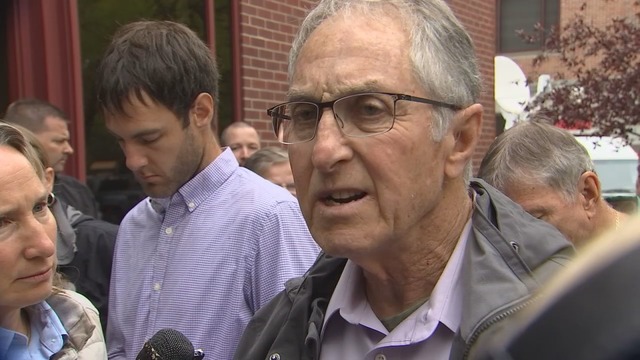 ST. CLOUD, Minn. (KMSP) – A tense moment capped off the Jacob Wetterling case files release event Thursday morning.
After Stearns County Sheriff Don Gudmundson finished his presentation, the original FBI Investigator assigned to the case, Al Garber, took the podium unprompted to rebut Gudmundson's version of events.
"I've known Don Gudmundson for many years and we've worked together a number of times and I have a great deal of respect for Don," Garber said. "I don't know what his motive is in this presentation frankly, but I think there are some things you need to know to make this a positive experience, not a negative one."
Garber went on to accuse Gudmundson of making his beliefs in the case fit the facts. Then, he questioned Gudmundson's credentials in handling the high profile investigation, which caused Gudmundson to return to the podium.
He briefly attempted to defend his credentials before saying, "You know what, Al?" Why don't you take it outside?"
Garber did just that, inviting the gathered media to listen to his remarks outside the building.
Once outside, Garber read from his notes and disagreed with Gudmundson's re-telling of the story.
"Don [Gudmundson] wasn't there," Garber said. "He didn't see the day-to-day operation."
Garber said much of Gudmundson's re-telling saddened him, especially when he claimed there were periods of time in which the investigation seemed to stall.
In addition, Garber refuted the claim that the FBI focused too much on Dewey Hart and not on Danny Heinrich, who eventually admitted to the murder.
"When Heinrich came to our attention, we conducted a 24/7 surveillance of Heinrich for two weeks," Garber said.
"It shows me he wasn't there," Garber added. "He shouldn't portray that because it does damage to our cooperative effort."
Garber went on to dispute claims Gudmundson made about when Heinrich was taken into custody and released. Garber said the release was the decision of the County Attorney due to a lack of evidence.
"Here it is, 20 years later and the Sheriff gets up and writes all these things down that point to Heinrich and he tells you that all we should have done is give up all the other leads and interview Heinrich again and again and again," Garber said, pointing to other suspects that admitted to the crime that were questioned during the investigation.
Finally, Garber refuted the perceived lack of cooperation in the investigation between agencies.
"To hear this man say that we lied to them, cheated them and left them out of the loop, please don't believe that," he said. "It's not the way it works."