Police report on second Everson Griffen incident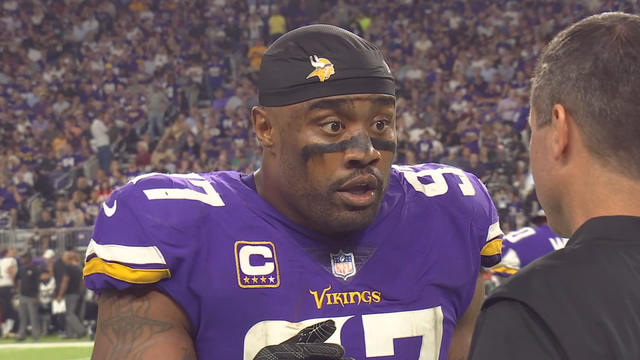 MINNETRISTA, Minn. (KMSP) – Police in Minnestrista, Minnesota have released their report of a second incident involving Minnesota Vikings defensive end Everson Griffen on Saturday, Sept. 22.
The first incident occurred at 1:25 p.m. at the Hotel Ivy in downtown Minneapolis, where a report from the Minneapolis Police Department stated Griffen told hotel staff "that if someone doesn't let him in his room that he is going to shoot someone." No weapon was ever shown or implied and Griffen agreed to leave the hotel.
The Hotel Ivy incident was cleared by 1:47 p.m. The Minnetrista Police Department's report picks up at 2:11 p.m. Saturday when the South Minnetonka Police Department relayed a call they received from Vikings director of security Kim Klawiter requesting an officer to check on Griffen's wife and kids.
Klawiter told police that he and other Vikings staff "are concerned about Everson Griffen and what he may or may not do to himself and/or his wife and kids." The report continued: "Kim said that he hasn't been acting normal lately and said that it's almost like he is having a nervous breakdown. Kim said that it was so bad that the team told him not to play on Sunday and to go get his head straight. Everson also showed up to practice Saturday morning 09-22-18 and was told not to. Kim stated he was at a Hotel Ivy in Minneapolis and had to be removed by Minneapolis police as he was causing a disturbance and was headed back to his home in Minnetrista."
When police arrived at the Griffen home, they made contact with the nanny who said Griffen's wife and kids had already left. Police met up with Griffen's wife Tiffany at a park in Mound, where she gave the following account: "Tiffany said that Everson has not been acting normal lately. She stated that last Sunday on 09-16-18 they were sleeping and in the middle of the night he got up and left. Tiffany said that he does this from time to time as he is fighting with 'demons' in his head and that it's normal for him to run away and has done this throughout his life."
Tiffany said Everson left the house and went to Hotel Ivy in downtown Minneapolis, which is where she said he was staying during the week.
Tiffany told police "she didn't know what to do" and that she wants him to get help. She said Everson is not on any medication "but should be," adding that he "hasn't slept in days" and thinks he is delusional because of the lack of sleep. Tiffany said there hasn't been any comments about wanting to harm himself or others.
Minnetrista police made contact with Griffen on the phone. When asked if he felt like harming himself or others, Griffen said, "No, why would I do that?" and that he "wouldn't hurt anyone." Griffen then went on to "speak about how he was going to be gone for six to eight days and went on rambling about other things."
Police then made contact with Vikings Director of Player Development Les Pico who said Griffen "has really been struggling for the past few weeks." Pico said during practice in the past week, Everson "has been explosive, screaming and yelling in the workplace." Pico said that Vikings management sent Griffen and his agent a letter on Thursday, Sept. 20 stating he is not allowed back until he has a mental health evaluation.
Pico said Griffen has paranoia and has been "repeating himself lately." He said Griffen's speech is "rapid and his conversations were irrational." Pico stated while the Vikings want Griffen to get a mental health evaluation, there is nothing that Griffen has said or done that would "rise it to the level where immediate action needs to be taken."
After talking with Pico, Minnetrista police received a text from Griffen's wife requesting a phone call. Tiffany said that "Everson was just at Trae Waynes' house located at (redacted). Tiffany said she got a phone call from his fiance who stated Everson just broke into their home and jumped through some bushes and he was not wearing a shirt." It was later confirmed that Griffen did come to the house, opened the front door then quickly ran away when the door opened.
When police made face-to-face contact with Griffen, he was making comments about "777" and that he went to Waynes' house because "God made me do it." He went on to say that there was a sign on the front door saying "welcome fall" so that's why he went there. Griffen's wife told police that while they know the Waynes', they are "not good friends where he would just go down there and let himself in."
At that point, police told Griffen that he needed to go to a hospital to get checked out and he agreed to go. The police report said Griffen made several more comments about people trying to kill him, referencing 777 and God several times.
According to the police report, paramedics requested officers at County Road 44 and Stonebridge, where "Everson was out of the ambulance walking on the side of Co Rd 44 with his hands up in the air." Paramedics told police that a few deer ran across the road and while they were driving and "Griffen got up and jumped out of the ambulance because he was in fear that someone was going to shoot him."
The Minnetrista police report ends by noting, "since no crime was committed there are no criminal charges forthcoming regarding this incident in Minnetrista."
"We are aware of the situation involving Everson Griffen and certainly concerned by what we have heard," said Vikings General Manager Rick Spielman in a statement Monday evening. "We are currently focused on Everson's well-being and providing the appropriate support for him and his family."