Second Search Underway For Missing Hallock, MN Woman
Kittson County Sheriff Steve Porter recently re-opened the cold case file of Becky Jo Look of Halma.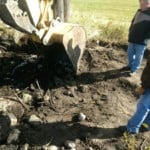 HALLOCK, MINNESOTA (KFGO) – New information on the case a woman missing and believed to have been murdered in northwestern Minnesota more than 20 years ago.
Kittson County Sheriff Steve Porter recently re-opened the cold case file of Becky Jo Look of Halma, last seen in October of 1995.
Based on information from the public, the sheriff's department searched a pasture just inside the county line of neighboring Marshall County in August.
A woman had reported her son, who is no longer living, told her he helped another man bury a woman in a farm field.
Porter, for the first time, has identified that man as Christopher Nelson and that Nelson told his mother the burial site was in a rock pile on his father's farm.
That's where the summer search for human remains was focused.
Hundreds of bones were found but lab analysis determined they were animal bones.
Porter found out Nelson had a step-father and says it's possible the burial could have been on his farm, east of Karlstad, near the abandoned village of Pelan.
Uncertain if he should launch a second search on that property, Porter says a new tip has directed the search for the remains in a new location.
Last week, a man told Porter, around the time Look was last seen, he was driving to a friends house on a remote, dead-end road at night when he saw headlights on a vehicle in a field belonging to the step-father.
When he was spotted, the man told Porter the lights were shut off and the people hid.
As a result of the new information, Porter says this past weekend, with the help of local firefighters, a search party, using a backhoe, sifted through five rock piles with no success on the property but Porter says there are more rock piles to check.
Becky Jo Look moved to Halma 23 years ago to live with her boyfriend and stayed for several months before she disappeared.
Her family, who live out-of-state, concerned after being unable to contact her, reported her missing in February of 1996 but nothing came of the missing person investigation.
The whereabouts of her boyfriend is not known as he left area not long after Look's disappearance.
Porter is convinced others have information and is asking anyone with information contact the sheriff's office at 218-843-3535.