Vikings' Everson Griffen returns to practice, takes 'full responsibility' for actions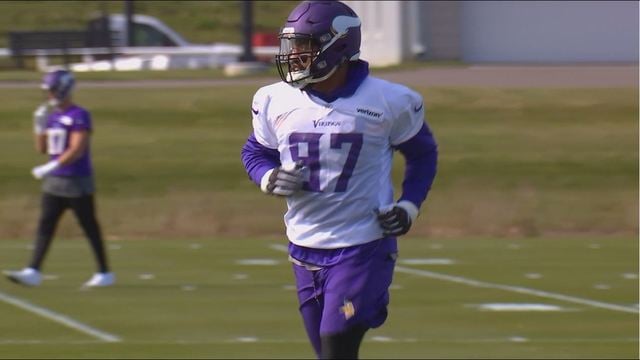 EAGAN, Minn. (KMSP) – Minnesota Vikings defensive end Everson Griffen is back at practice after taking time off for personal issues.
Griffen returned to TCO Performance Center on Wednesday and participated in drills. Griffen has not played in a game since the Vikings tied the Green Bay Packers in Week 2.
In September, Griffen was taken to a local hospital in protective custody for an evaluation following incidents at the Hotel Ivy in downtown Minneapolis and in Minnetrista.
Head Coach Mike Zimmer says he's unsure if Griffen will be playing this weekend against the New Orleans Saints, but says he's glad to see Everson back on the practice field.
"He's done a lot of work," said Zimmer. "We've been in contact with the doctor constantly."
"Having Everson, the person, back in the locker room is a great thing," said quarterback Kirk Cousins.
In a statement released Tuesday, Griffen says he someday hopes to use his platform to raise awareness about issues he has faced.
He talked to members of the media Tuesday afternoon and gave this opening remark:
First off I want to take full responsibility for my actions that went on in September. I've had a lot of support from my family, the Minnesota Vikings and doctors, my teammates, the fans, and, you know, I wanted to give my apologies to the people I've impacted and I'm sorry if I affected them in any way. I'm just excited to get back here with my team and get back to the grind of things. It's been hard to be away, but I'm happy to be back and it's a good feeling right now. I'm taking it one day at a time and one thing at a time to get back on track.