Local Groups Kick Off Native American Heritage Month in Fargo
Fargo Public Library hosted a kickoff event with storytelling and drumming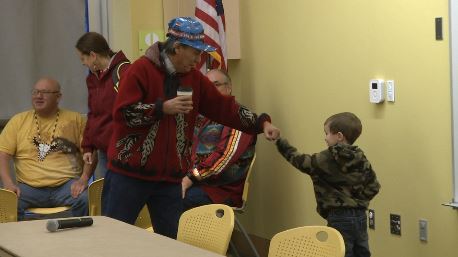 FARGO, N.D. — To kick off Native American Heritage Month, several groups look to educate people across the metro about their culture.
People learned more about Native American art, music, and stories at an event to kick off the month's festivities at Fargo Public Library.
The kickoff event runs alongside the "Bring Her Home" art exhibit, which looks to bring awareness to murdered and missing indigenous women.
Some say music and other forms of art are a good way for people to develop an appreciation for Native American culture.
"We use song and drum in just about everything we do, and we're trying to show them a little bit of our culture, a little bit with storytelling, a little bit with introducing some members of our commissioners that are part of the Native American Commission for the City of Fargo, and try to show a good representation of the F–M area," said Michael Gabbard of the Buffalo River Drum Group.
The festivities continue tomorrow at Fargo Public Library with a screening of the film "Wind River" and a panel discussion about murdered and missing indigenous women.