Former President George H.W. Bush Has Died at Age 94
Former President George H.W. Bush will be honored with a state funeral at Washington's National Cathedral.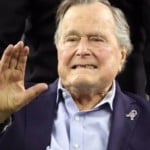 Former President George H.W. Bush has died at the age of 94.
Family spokesman Jim McGrath says Bush died shortly after 10 p.m. Friday, about eight months after the death of his wife, Barbara Bush.
The nation's 41st president served from 1989 to 1993, and eight years later watched his son George W. became the 43rd president.
The elder Bush saw his popularity swell with the United States' success in the Gulf War in 1991, only to watch it evaporate in a brief but deep recession. The Republican was defeated in his bid for a second term by Democrat Bill Clinton.
Bush had also been a World War II hero, Texas congressman, CIA director and Ronald Reagan's vice president.
Only one other U.S. president, John Adams, had a son who also became president.
Former President George H.W. Bush will be honored with a state funeral at Washington's National Cathedral.
That's according to White House press secretary Sarah Sanders, who says President Donald Trump and first lady Melania Trump will attend. She adds Trump is scheduled to speak Saturday with Bush's son former President George W. Bush to "offer his condolences on behalf of himself, the first lady, and the entire country."
Trump has a tense relationship with the Bush family, stemming from criticism they leveled at his campaign rhetoric and leadership style.
Sanders says Trump and his wife were informed late Friday of the elder Bush's death while in Argentina attending the Group of 20 summit.
Trump is also set to designate Wednesday as a national day of mourning.
Praise is coming in for former President George H.W. Bush from another former president.
The office of former President Barack Obama and Michelle Obama said Bush's life was "a testament to the notion that public service is a noble, joyous calling. And he did tremendous good along the journey."
The Obamas credited him with "expanding America's promise to new immigrants and people with disabilities. Reducing the scourge of nuclear weapons and building a broad international coalition to expel a dictator from Kuwait. And when democratic revolutions bloomed across Eastern Europe, it was his steady, diplomatic hand that made possible an achievement once thought anything but – ending the Cold War without firing a shot."
They said: "It's a legacy of service that may never be matched, even though he'd want all of us to try."
James A. Baker III, former President George H.W. Bush's secretary of state and longtime confidant, said his friend's legacy "will be forever etched in the history of America and the world." He noted Bush's "lifelong record of selfless patriotic service to our nation," from being the youngest U.S. Navy aviator in World War II to serving as a Texas congressman, United Nations ambassador, the first U.S. ambassador to China, CIA director, vice president and president.
In a statement, Baker said that in each position, Bush "led with strength, integrity, compassion and humility _ characteristics that define a truly great man and effective leader." Baker added that, "with a singularly unique consistency, he always demonstrated these traits, whether on the global stage or interacting with people in his everyday life. His passion was a deep love of family and our country."
President Donald Trump and first lady Melania Trump are mourning the passing of former President George H.W. Bush.
In a statement, the Trumps praise Bush for his "sound judgment, common sense and unflappable leadership."
The Trumps say that Bush "inspired generations of his fellow Americans to public service."
They also praise the former president for guiding the nation and the world to a "peaceful and victorious conclusion of the Cold War."
The Trumps add that Bush remained humble despite his accomplishments, "following the quiet call to service that gave him a clear sense of direction."
The statement was issued while the Trumps are in Buenos Aires, Argentine for the Group of 20 summit.
Former President Bill Clinton is remembering George H.W. Bush for his "great long life of service, love and friendship."
In a statement issued early Saturday, Clinton said he would be "forever grateful" for the friendship he formed with the man he turned out of the White House after one term.
Clinton, who defeated Bush in the 1992 presidential election, says he was always struck by Bush's "innate and genuine decency" and by his devotion to his wife Barbara and his family.
Clinton says Bush's extensive record of public service was rare, with his years in the military, in Congress, the United Nations, China, the CIA and as vice president and president.
Clinton adds that Bush never stopped serving even after leaving office, working on tsunami relief in Asia and within the U.S. after Hurricane Katrina.
The two former presidents worked together on those relief efforts.
British leaders past and present are paying tribute to U.S. President George H.W. Bush as a committed public servant who helped the United States stand tall on the world stage.
Prime Minister Theresa May says Bush was "a great statesman and a true friend of our country" whose "ethos of public service was the guiding thread of his life and an example to us all."
May said in a statement that "in navigating a peaceful end to the Cold War he made the world a safer place for generations to come."
John Major, whose 1990-1997 term as British prime minister overlapped with Bush's presidency, said the late president "saw America's obligation to the world and honored it."
Major told the BBC that "I feel privileged to have worked with him, and even more privileged that he became a lifelong friend. He was, quite simply, one of the most deep-down decent people I have ever known."
Former President Jimmy Carter has offered condolences following George H.W. Bush's death and praised the man he says lived a life defined by service and civility.
Carter said in a statement release Saturday: "Rosalynn and I are deeply saddened by the death of former President George H.W. Bush. His administration was marked by grace, civility, and social conscience. Through his Points of Light initiative and other projects, he espoused a uniquely American volunteer spirit, fostering bipartisan support for citizen service and inspiring millions to embrace community volunteerism as a cherished responsibility.
"We again extend our heartfelt condolences to the Bush family."