One Fatality in Fargo Fire on 12th Street North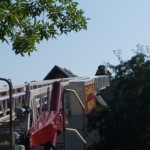 FARGO, ND — Fargo Fire confirms there is one fatality in a apartment fire Thursday morning.
Fargo Firefighters are working to control an active fire at 417 12th Street North at this hour.
It has been called in as at least a 2 alarm fire.
It is best to avoid that area right now.
We have a crew on the scene and will have updates on KVRR.com and tonight on KVRR Local News at 6 & 9.