UPDATE: Police Release Images Of Armed Robbery Suspect At Dilworth Liquor Store
armed robbery Monday night at Trax Liquors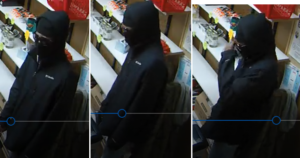 DILWORTH, Minn. — Police continue to investigate an armed robbery Monday night at Trax Liquors on Center Avenue in Dilworth.
They say a black male got away with an undisclosed amount of cash just before 10 p.m.
Take a look at the images just released by police and see if you can recognize the suspect.
Police say he may have run north behind the store and left in a waiting vehicle.
A K9 from West Fargo was unable to track the suspect down.
Police are following several leads after speaking with people who were in the area and viewing surveillance video.