Update: Missing man seen on surveillance video last night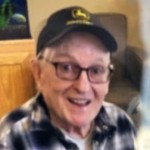 FARGO, ND — (UPDATE) Fargo Police provided an update at 3:00 p.m. on Friday, October 2.
Throughout the afternoon, officers and detectives have been following up on leads and completed a grid search with the help of Fargo Fire and Red River Valley Water Rescue.
This afternoon, Detectives viewed Robert on surveillance video from last night at 5:09 p.m. at Loves Truck Stop.
Right now, detectives are following up with local businesses to review their surveillance footage.
We continue to ask our community to keep an eye out for Mr. McKinnon. If you see him, call 911
—-
FARGO, N.D. – An elderly Fargo man is missing and a civil emergency message that went out statewide early today (Friday), called a Silver Alert, asking the public's help in finding him.
Red River Regional Dispatch also sent out a Cass-Clay alert.
Robert McKinnon, 80,  was last seen around 5:30 p.m.Thursday in the 4500 block of 36th Avenue South.
He was last seen on foot wearing a black baseball hat, black and white checkered shirt, and glasses.
McKinnon has mobility issues and may not recognize where he is.
It's not known if he has access to a vehicle.
Anyone with information on McKinnon is asked to contact the Fargo Police Department at 701-451-7661.