Fargo School Board trims list of proposed high school names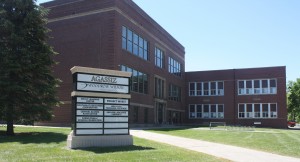 FARGO (KVRR) – The Fargo School Board has narrowed down a list of new names for the former Woodrow Wilson High School.
The board removed the name last month and asked for suggestions from the public.
A total of 129 names were submitted. Out of that list, 26 finalists were chosen.
Some of the finalists are Fargo Community High School, Gladys Ray High School, Maya Angelou High School, Prairie Rose High School, Rosa Parks High School, Sakakawea High School and Thurgood Marshall High School.
Notable names that were not among the finalists include Dennis Walaker High School, Bobby Vee High school, Barack Obama High School and Donald J. Trump High School.
The school board will meet Tuesday and narrow the finalists down to five names.
The 26 finalists are below, followed by the entire list of 129 submissions.
Agnes Geelan High School
Central High School
Centralia
Dakota High School
Fargo Community High School
Gladys Ray High School
Journeys High School
Laura Eisenhuth
Legacy High School
Liberty High School
Louise Erdrich
Maya Angelo
MLK Community School
Ohana
Prairie Rose
Red River High School
Red River Valley
RISE Academy (Reaching Individual Success
Every Day)
Rosa Parks High School
Ruth Bader Ginsberg/R.B. Ginsberg High School
Sakakawea
Sojourner Truth High School
Thurgood Marshall High School
Unity High School
Valley High School
Voyageur
Entire list of submissions:
1. Agassiz (14 submissions)
a. Agassiz
b. Agassiz Alternative High School
c. Agassiz Alternative School
d. Agassiz High School
e. Agassiz School
f. Aggassiz
g. Lake Agassiz High School
2. Agnes Geelan
3. Albert Einstein
4. Allen Peterson High
5. Americal High School
6. Amy Coney Barrett High School
7. Andrew McHench
8. (Maya) Angelou High School
9. Anne Frank
10. Arthur A Link
11. Barack H. Obama High School (10
submissions)
a. Barack Obama
b. Barack Obama High School
c. Barack Obama Middle School
d. Obama Academy
e. Obama High
f. Obama High School
12. Betsy Dalrymple High School.
13. BOBBY VEE LIBERAL ARTS HIGH
SCHOOL
14. Cass County Central adaptive learning
center
15. Central High School (2 submissions)
16. Centralia High School
17. Changemakers High School
18. Dakota High School
19. Deb Dillon High School
20. Dennis Walaker (10 submissions)
a. Dennis Walaker High
b. Dennis Walaker High School
21. Dennis Walsh High School
22. DIRECTIONS (D.I.R.E.C.T.I.O.N.S)
23. Diversified High School
24. Donald J Trump (6 submission)
a. Donald J Trump Highschool
b. Donald J. Trump
c. Donald Trump High School
d. TRUMP HIGH
25. Doug Burgum High School
26. Dr. Edward Huttlin High
27. Durum
28. E & E School 2 Succeed
29. East Fargo
30. Ed Schafer
31. Elizabeth Bodine High School
32. Equality High School
33. Era Bell Thompson
34. Eugene V. Debs High School
35. Fargo Agassiz Central High School
36. Fargo central alc.
37. Fargo Central Alliance
38. Fargo Community High School (2
submissions)
39. Fargo East
40. Fargo United High School
41. Frederick Douglass
42. General of the Armies John J. (Black Jack)
Pershing
43. George Washington
44. Gladys Ray
45. Glenn Melvey High School
46. Hamilton G. Vasey High School (4
submissions)
a. Hamilton Vasey
47. Harriet Tubman
48. Harry S. Truman
49. Harvest
50. Heritage (2 submissions)
51. Herschel Lashkowitz (2 submissions)
a. Herschel Lashkowitz High School
52. Ida B. Wells
53. James Buchli High School (2 submissions)
a. James Frederick Buchli
54. Jason Moszer (4 submissions)
a. Moser High School
b. Moszer high school
c. Officer Jason Moszer High School
55. Jean Guy
56. (Peter) Jennings High School
57. JFK
58. Jocelyn Burdick
59. John Lewis (4 submissions)
a. John Lewis High School
b. John R. Lewis
c. John Robert Lewis
60. Journeys High School
61. Justice High School
62. Lakota
63. Laura J. Eisenhuth High School (3
submissions)
a. Laura J. Kelly Eisenhuth
b. Eisenhuth
64. Leave it be
65. Legacy (2 submissions)
66. Legendary High
67. Liberty High School
68. Louis L'amour High School
69. Louise Erdrich High School
9
70. M. Kemal Ataturk (2 submissions)
a. M.Kemal ATATURK
71. Mailloux High School
72. Malcolm X
73. Margie Bailly High School
74. Mark Andrewa
75. Martin Luther King, Jr (5 submissions)
a. Dr. Martin Luther King High
School
b. Martin Luther King, Jr.
c. MLK Academy
d. MLK Community School
76. Melvina Rae Massey High School
77. MOORHEAD WEST
78. New Day High School
79. Nightingale High School
80. Northern Plains
81. Ohana High School
82. OPPORTUNITY HIGH
83. Oprah Winfrey High School
84. Oskar Schindler
85. Pioneer
86. Prairie Rose
87. PS 1
88. R.I.S.E. Academy/High School
89. Raoul Wallenberg
90. Red River High
91. Red River Valley High School
92. Richard Pryor High School
93. RISE Academy (Reaching Individual
Success Every Day)
94. Rising Star High School
95. River Valley High School
96. Rocket High
97. Roger Maris (2 submissions)
a. Roger Maris High School
98. Ronald Reagan (3 submissions)
a. Reagan High School
b. Ronald Reagan High School
c. Ronald Regan/Regan High School
99. Rosa Parks (2 submissions)
100. Ruth Bader Ginsberg High School (13
submissions)
a. R.B. Ginsburg High School
b. RBG High School (Ruth Bader
Ginsburg)
c. Ruth Bader Ginsburg
101. (Roxana) Saberi High School
102. Sakakawea [official ND spelling]
103. Sally Ride HS
104. Sarah A. Campbell (1823-1888)
105. Schooley McSchoolface (5 submissions)
a. Schoolie McSchoolFace
b. Schooly McSchoolFace
c. Schooly McSchoolface
106. Sitting Bull High School
107. Snowflake Central
108. Sojourner Truth High School
109. Susan B. Anthony
110. TAS School (Taking a Step)
111. The Clarence Thomas High School
112. Theodore Roosevelt (2 submissions)
a. Teddy Roosevelt High School
113. Thomas Sowell (2 submissions)
114. Thurgood Marshall Highschool
115. Ulysses S. Grant High School
116. UNITED
117. United Area Learning Center
118. United States Representative Ilhan Omar
High School
119. Unity
120. Valley High School
121. Voyager
122. Voyageur High School
123. W.H. Johnson High School
124. Walt Whitman High School
125. Wayne Sanstead High School
126. WFAF Thru School (Working For A
Future thru school)
127. William Monroe Trotter High School
128. Wilson High School
129. Woodrow Wilson (6 submissions)