Mayor says Fargo mask mandate will likely not be extended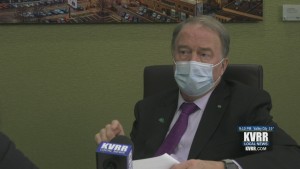 FARGO (KVRR) – Fargo Mayor Tim Mahoney says a city mandate requiring face coverings in indoor public places will likely be allowed to expire later this month.
In a statement on social media, Mahoney said that there are three elements Fargo Cass Public Health will use to guide their recommendation.
"To start, the percentage of active cases in Fargo should remain below 3%" Mahoney said.  "Secondly, all high risk individuals in phase 1B should be vaccinated."
"Lastly, we need to ensure there are no widely-circulating variants of the virus in the U.S. that are resistant to vaccine or that cause higher hospitalization and death rates" the Mayor said.
"At this time, if we can get through phase 1B of vaccinations, we feel the data suggests that the mask mandate will likely not need to extend beyond the current end date of March 22."