Student arrested after firing gun inside Plymouth Middle School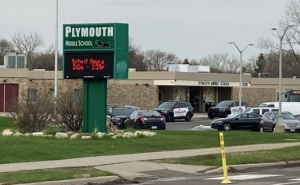 PLYMOUTH, Minn. (FOX9) –  Plymouth Middle School in Plymouth, Minnesota was on lockdown Monday after a student brought a loaded handgun to the school and fired several shots into the ceiling of a hallway.
No injuries were reported and all students are safe, Robbinsdale Area Schools confirmed.
Plymouth Police Chief Erik Fadden said the shooting occurred in the hallway outside a bathroom around 8:44 a.m. School administrators and police responded immediately and the school was placed on lockdown.
The student who fired the weapon was taken into custody without incident. Police do not believe there is any further threat to anyone at the school.
Interim Superintendent Dr. Stephanie Burrage said several students witnessed the incident.
Police are investigating the incident. The school district has also opened its own investigation.