Local Muslims forgive man accused of painting hate messages on mosque
Benjamin Enderle is also invited to visit the mosque after Ramadan.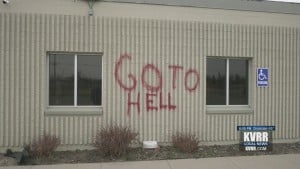 MOORHEAD, Minn. (KVRR) – The Moorhead Muslim Community and the Minnesota chapter of the Council on American-Islamic Relations say they forgive the man accused of spray painting hate messages on the outside of a mosque in Moorhead.
The community also invited 22-year-old Benjamin Enderle to visit the mosque with his family after Ramadan.
Enderle is charged with felony harassment with bias and felony criminal damage to property. "Death to Islam" and "Go to Hell" were among the words painted on the building.
"The forgiveness offered by the Moorhead-Fargo Islamic Community Center to the young man who allegedly committed this heinous crime is a blessing during the month of Ramadan, during which we as a community are seeking forgiveness from our Creator" CAIR-MN said.
"While the hate crime sent a chilling message to our community, we welcome the opportunity to heal and move forward. We applaud the leadership of the Moorhead Fargo Islamic Community Center and the rest of the community, and we thank the wider community that came forward to support the mosque immediately after the attack."
According to court documents, Enderle admitted to police that he was responsible for the vandalism and said "he did it as a joke" and said he did it "to get a reaction from the community and the media."