Red Lake police officer's funeral set for Monday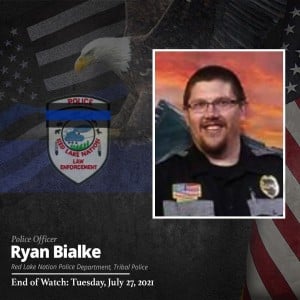 RED LAKE, Minn. (KVRR/KFGO) – The funeral for a Red Lake tribal police officer who was killed while on duty is scheduled for Monday afternoon.
Officer Ryan Bialke was shot while responding to a call tuesday morning in redby.  The service will be at Red Lake Humanities Center with burial in Bemidji.
The 37-year-old Bialke was married with four children.
David Donnell Jr. faces federal charges of second-degree murder and assault with a dangerous weapon.
A GoFundMe account set up by Red Lake Tribal Council to act as a memorial and scholarship fund for Bialke's children has already raised over 16 thousand dollars.
He had twin boys and two daughters along with two step children.
The council noted that Ryan would travel to the metro area for his children's hockey & soccer games and make it back to Red Lake Nation for his shift.
He served with Red Lake Department of Public Safety for six years.
You can find a link to the fundraiser here.