Update: Two dead following Fargo house fire
The cause of the fire remains under investigation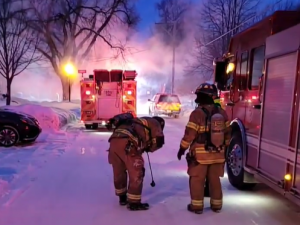 FARGO (KVRR) – Authorities say two people are dead following a house fire Wednesday morning in south Fargo.
Fargo Fire Marshal Ryan Erickson says one of the victims died after being taken by ambulance to a hospital.  The body of the second victim was found during a search of the house.
The identities of the victims have not been released.
Firefighters were called to 1418 2nd Ave. S. shortly after 5:00 a.m. It took several hours to put the fire out.
Erickson says two firefighters fell into a hole in the floor of the house, but were able to safely remove themselves. He says a search of the home was slowed down due to a partial collapse of the building.
The cause of the fire remains under investigation.