UND women's hockey lawsuit dismissed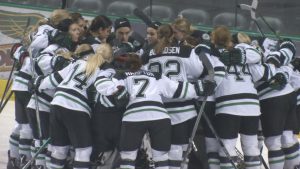 GRAND FORKS, N.D. (KVRR-KFGO) – A federal class action lawsuit brought by would-be members of the women's hockey team against the North Dakota University System after the University of North Dakota eliminated the program has been dismissed.
The case, filed in district court last June, claimed UND violated Title IX, a rule designed to provide gender equity in public institutions, and discriminated against women when it got rid of women's hockey in 2017. Four former players from Red River and Devils Lake high schools were the named plaintiffs in the case. The four claimed they would have enrolled and played at UND had women's hockey been offered.
The case was dismissed for lack of jurisdiction, with the court agreeing with NDUS attorneys that because none of the plaintiffs attend UND, their claim of having been harmed by its actions is only "conjectural or hypothetical" and therefore insufficient. An earlier case was brought in 2018 by alums of the hockey program but it was dropped after the school made a similar jurisdictional argument that the players were no longer enrolled at UND at the time the suit was filed, so could not be directly harmed by the decision.
UND's women's hockey program was established in 2002. It was ranked 6th in the nation in its final 2016-17 season. Six of the team's players were named to the 2014 U.S. Women's Olympic team.