Jamestown priest under investigation for sexual assault arrested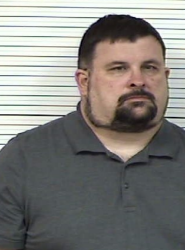 RUGBY, N.D. (KFGO) – A man who has been under investigation for inappropriate behavior at a Catholic church in Jamestown has been arrested for suspicion of committing sexual exploitation by therapist.
According to Jamestown Police, 48-year-old Father Neil Pfeifer was arrested in Rugby, North Dakota on Wednesday.
Pfeifer has been under investigation since Jan. 13 when Jamestown Police were contacted by a person accusing Pfeifer of sexual assault at St. James Basilica in Jamestown while seeking therapy from him.
An investigation uncovered accusations of crimes in other jurisdictions.
A statement released by the Catholic Diocese of Fargo in January said the allegations involve inappropriate conduct with adults. Pfeifer was removed as pastor in Jamestown, at St. Margaret Mary in Buchanan, and at St. Mathias in Windsor, pending the outcome of the investigation.
The investigation, which has included Jamestown and Napoleon Police Departments, Logan County Sheriff's Office, and North Dakota Bureau of Criminal Investigation, is ongoing.