Sheyenne, N.D. bar shooting suspect caught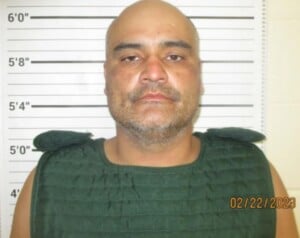 UPDATE – A man wanted for the deadly shooting of a man at a Sheyenne, North Dakota bar has been caught.
Nicholas Poitra was spotted by a farmer in Eddy County around noon.
The farmer held him at gunpoint until law enforcement arrived and Poitra was taken to Lake Region Law Enforcement Center in Devils Lake.
EDDY CO., N.D. (KVRR/KFGO) — A bar shooting murder suspect is still on the run and 45-year-old Nicholas Poitra is believed to be armed and "extremely dangerous".
He is wanted in the fatal shooting of 30-year-old Troyal Thumb inside Rindy's Sheyenne Bar in Sheyenne, North Dakota Sunday evening.
Eddy County Sheriff Paul Lies says the acquaintances had an argument before Poitra took out a gun and shot Thumb.
Poitra stole a vehicle as he fled and it was found abandoned near a farm in Wells County.
The farm was searched but nobody was home.
A number of firearms were found at the farm and authorities are still working to determine whether any of those guns were taken.
Poitra is facing 11 charges including murder, possession of a firearm by a felon, possession of a short-barreled shotgun, seven counts of terrorizing, and robbery.
Authorities are receiving some tips but Lies says "nothing is panning out."
He says they are "desperately looking for information from the public" to find Poitra.