Emerald Ash Borer Confirmed in Clay County, 1st Case in Northwestern MN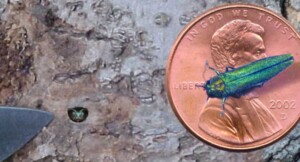 MOORHEAD, Minn. (KFGO) — Clay County is the 39th county in Minnesota with a confirmed case of Emerald Ash Borer after a Moorhead city forester found evidence of the disease while pruning trees.
It is the first in northwestern Minnesota.
Emerald Ash Borer larvae kill ash trees by tunneling under the bark and feeding on the part of the tree that moves nutrients up and down the trunk.
The Department of Agriculture is enacting an emergency quarantine in the western part of Clay County, from Highway 9 to the North Dakota Border.
It limits the movement of firewood and ash material out of the area.